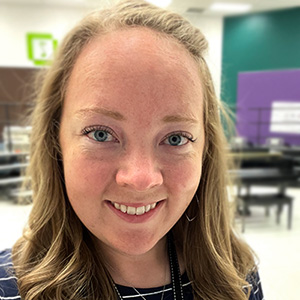 Cassie Horner is currently director of choirs at Les Bois Junior High in the Boise School District. She graduated from Idaho State University in 2012 and earned a Masters in Educational Leadership from Boise State University in 2016.
In 2012, Cassie started her career teaching Pre-K – 5th grade general music at Desert Sage ELementary in the West Ada School District. During her time there, she created the Desert Sage Howler's Choir and had over 60 4th/5th grade voices every year. In 2018, she moved into her current position at Les Bois Junior High. Her top group, Improv, was selected to perform at the 2019 Fall In-Service Idaho ACDA conference. Improv has also spent time at the Columbia Basin College's Jazz Unlimited Festival and has consistently received high honors.
Cassie grew up in the music world. She started taking piano lessons at age four and continued on through high school. When she was in 6th grade, she started playing oboe in her elementary band and quickly picked up flute, bassoon and saxophone throughout junior and senior high school. Cassie was drum major for the Timberline High School marching band and for three of the four years she attended Idaho State University. During her time at ISU, Cassie joined the Camerata Singers as well as the jazz band, concert band, wind ensemble and percussion ensemble. Cassie has enjoyed performing with the Boise Women's Chorus.
Cassie married her husband, Matthew, in 2018. Together, they have 1 dog, 2 cats and 2 guinea pigs. She loves baking, being active and reading.